Everyone has been asking the question, "Where is Rosemary's Disc?"
First, go to Mt. Seraphina State Park. You should see a piece of sparkling dirt. Click there.
THE DISC SHOULD BE IN THE ORANGE CIRCLED AREA, IN THE PICTURE BELOW. IF IT ISN'T CHECK BACK LATER.
Thank you. =)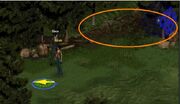 Ad blocker interference detected!
Wikia is a free-to-use site that makes money from advertising. We have a modified experience for viewers using ad blockers

Wikia is not accessible if you've made further modifications. Remove the custom ad blocker rule(s) and the page will load as expected.