Fighting : 100
Harvesting: 100
Crafting: 100
Exploring 100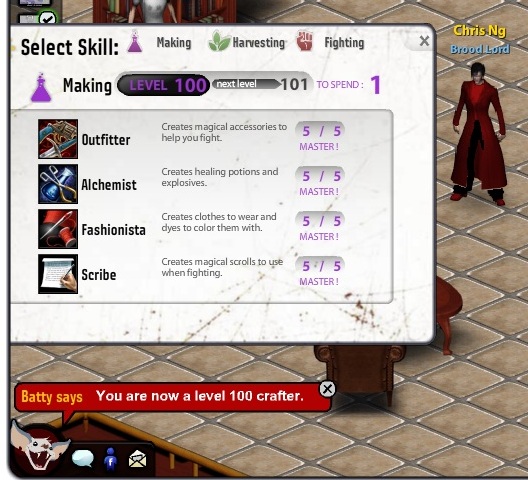 Favourite Harvesting:
Level 4 - Rootin' Grounds. I basically grew up in Rootin Grounds. It is my favourite place to harvest and increase my XP in crafting.
Level 5 - Silver Order Plot. My favourite when i was collecting for XP and increase my Rubies Wealth.
Favourite Crafting: Mahogony Secret. Why there ? Because i can buy Hemp, Tattered, Gouged, lemons, Jasper, Lead from the two merchants while Crafting.
Favourite Quest: Codex Request
Ad blocker interference detected!
Wikia is a free-to-use site that makes money from advertising. We have a modified experience for viewers using ad blockers

Wikia is not accessible if you've made further modifications. Remove the custom ad blocker rule(s) and the page will load as expected.