Bienvenido al oscuro mundo de New Valencia!
Tu primera parada:Edit
El cementerio. Si no estás muy seguro de qué hacer, Theo está allí para ayudarte y para enviarte en tu primera misión: combatir zombies!
Hay dos maneras de moverte en New Valencia: con las flechas de tu teclado, con con tu mouse, clickeando y moviéndote al mismo tiempo, o clickeando en el lugar donde deseas ir. Pruébalas todas y decide cuál te resulta mejor!
| | |
| --- | --- |
| Si te mueves a la derecha, encontrarás una banda de zombies listos para atacarte. Cliquea uno de ellos, y verás un círculo rojo: significa que el zombie está a punto de atacarte! Cliquea en "Fight" y da batalla! Con la tecla 1 puedes atacar con tus colmillos (bite) y tecleando 2 consumes la sangre de tu víctima. Un par de clicks y el zombie pasará de muerto a super muerto. No te olvides de clickear nuevamente a Theo para informarle el éxito en tu primera misión. | |
El segundo paso:
Edit
| | |
| --- | --- |
| | Tu casa! todos los vampiros en New Valencia tienen su propia casa, que podrás decorar a tu gusto. También puedes visitar las casas de tus amigos, y comprar muebles y objetos en VIKEA. |
| | | |
| --- | --- | --- |
| En tu casa encontrarás una poción en el refrigerador, y una misteriosa nota en el aparador. | | |

Listo para salir a recorrer New Valencia? Primero cámbiate la ropa!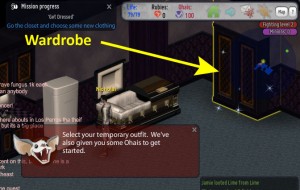 Tu próxima misión: ir al Club Hypnotique y entregar una nota a Lindsay! Luego de tu segunda misión, ya estás listo para salir a recorrer New Valencia. Encontrarás misiones, misteriosas calles, clubes, y muchos vampiros dando vueltas!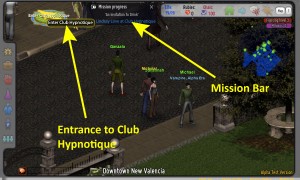 A explorar!
Ad blocker interference detected!
Wikia is a free-to-use site that makes money from advertising. We have a modified experience for viewers using ad blockers

Wikia is not accessible if you've made further modifications. Remove the custom ad blocker rule(s) and the page will load as expected.