Greg's way
Edit
Okay, here is how I created a complete map, there are lots of other ways, but I am a caveman.
Compilation map
Edit
First I created the compilation map. To do this I took a bunch of screen shots. For directions on taking a screen shot on a PC click Here. For a Mac click Here. Once you have caputered your screen shot you can paste it to your favorite image editor. Like I said I'm a caveman so I just use Paint. Take as many screen shots as required to get the full map and copy and paste your various pictures together to create one big map. The Bayview map I created is a good example of this. You can see how there are differnt colors all over the place because I had to take screen shots from a variety of location in the zone. It is best to try to find a dark location. I also generally use portals or some other easy to line up part of the map to create a joining spot.
Complete map
Edit
So now you have a compilation map! So how do you create a complete map? Again I am a cave man.
This first step you do not have to do to create a contest worthy complete map, but I like it. I use paint to replace the existing map with easier to see blocks.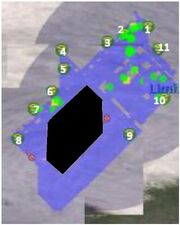 Once I have completely replaced the map I copy the entire image and paste it onto MS power point (I know for all you real editors out there...caveman).
I then add icons and a key using powerpoint tools (Power Point basics)

your final product should look something like these:
Ad blocker interference detected!
Wikia is a free-to-use site that makes money from advertising. We have a modified experience for viewers using ad blockers

Wikia is not accessible if you've made further modifications. Remove the custom ad blocker rule(s) and the page will load as expected.