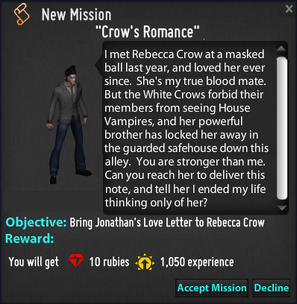 Recommended level: 20+ Go to the White Crows Hideout in Cascade Terrace. Talk to Jonathan Cosca and accept the mission. Fight your way to the end of the street, past level ±20 dogs and vampires, and enter the building. Kill the 5 vampires here and talk to the person to the north-east. Mission complete!

Directly after completing part 1 you get the offer to bring a message back. It's recommended to accept this. Return to Jonathan Cosca in the White Crows Hideout through the road, and give him the message. Mission complete!
Ad blocker interference detected!
Wikia is a free-to-use site that makes money from advertising. We have a modified experience for viewers using ad blockers

Wikia is not accessible if you've made further modifications. Remove the custom ad blocker rule(s) and the page will load as expected.