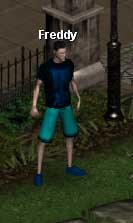 Rambumcious kid, who lost his dog in Los Perros Park.
Part one post your answers to Greg Flood's Talk page
Part two post your answers to the Wiki Contest Discussion page
Ad blocker interference detected!
Wikia is a free-to-use site that makes money from advertising. We have a modified experience for viewers using ad blockers

Wikia is not accessible if you've made further modifications. Remove the custom ad blocker rule(s) and the page will load as expected.