Mission
It's My Party!
Requires
None
Starting location
Westview
Given by
Barnaby
Objective
Incapacitate skeletons in Barnaby's townhouse and return their bones.
Reward
30 rubies

1410 exp one of the below: Weapon: Star Keened Claw (lvl 15, def +36, 60 dmg per sec)

Necklace: Adornement of the Succubus lvl 14, att +12

Necklace: Skinny Wool Scarf lvl 14, att +12

You find Barnaby in Westview standing outside his townhouse. Enter the townhouse and kill all the skeletons and collect their bones. Return to Barnaby to complete mission.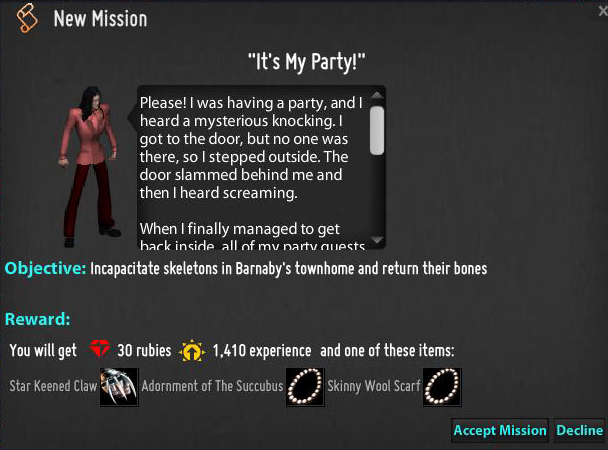 Ad blocker interference detected!
Wikia is a free-to-use site that makes money from advertising. We have a modified experience for viewers using ad blockers

Wikia is not accessible if you've made further modifications. Remove the custom ad blocker rule(s) and the page will load as expected.