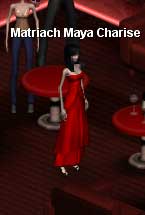 Mission character, located in the Private Cosca Room of
Club Hypnotique
. She is the Matriarch of
House Cosca
.
Maya Charise
Edit
Maya Charise, the house Cosca's young Matriarch, was turned only fifty years ago. Once the kind of heiress/socialite who spent summers in Monaco and winters skiing the alps, she has brought continued glamour to the house. She was the favored protégée of the previous Matriarch, who died mysteriously and passed the title on. While some other Houses have a wavering confidence in her ability to lead, there's no question that she is House Cosca's most talented and intuitive forecaster of social change.
Ad blocker interference detected!
Wikia is a free-to-use site that makes money from advertising. We have a modified experience for viewers using ad blockers

Wikia is not accessible if you've made further modifications. Remove the custom ad blocker rule(s) and the page will load as expected.