After you deliver Weston's message to Evana, she realizes her friend Kari must be worried sick about them. You will go to Downtown New Valencia and find Kari (towards Westview entrance) and deliver the message.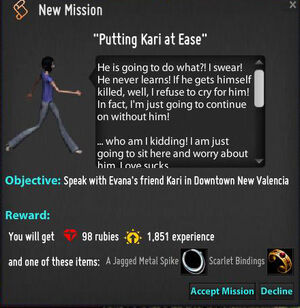 Ad blocker interference detected!
Wikia is a free-to-use site that makes money from advertising. We have a modified experience for viewers using ad blockers

Wikia is not accessible if you've made further modifications. Remove the custom ad blocker rule(s) and the page will load as expected.