Mission
Rings for Hugum
Requires
None
Starting location
Bayview Cemetery then enter Rootin' Grounds
Given by
Hugum
Objective
Rumpus Rooter Masher rings collected from the stomping ground.
Reward
130 rubies 6170 exp

white cotton sock lvl 75 att+72 def+6 life

+40 or Studded leather choker lvl 75 att +24 def +12 life +80

Locate Hugum in Bayview Cemetery by the entrance to the Rootin' Grounds. Obtain mission and go into the Rootin' Grounds.
Kill 6 Rumpus Rooter Mashers to collect the rings. Return to Hugum.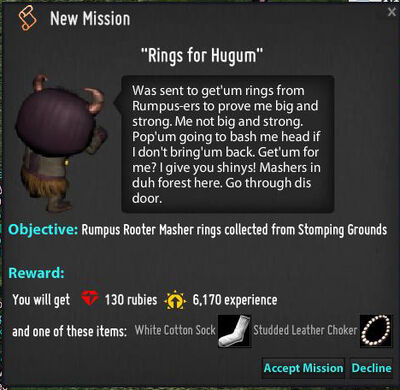 Ad blocker interference detected!
Wikia is a free-to-use site that makes money from advertising. We have a modified experience for viewers using ad blockers

Wikia is not accessible if you've made further modifications. Remove the custom ad blocker rule(s) and the page will load as expected.