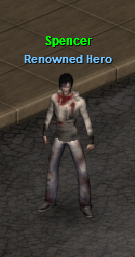 Stats:thumb|420px|right
Fighting:Level 100
Making:Level 41
Harvesting:Level 72
What fighting skills do you have? and which do you like the best, and which don't really stack-up?
Rend Flesh (MASTERED), Bite (MASTERED), Drink Life (MASTERED), Inhuman Precision (MASTERED), Murder Spree (½), Shadow Dance, Rigor Mortis, Hunger, Dark Angel , Bone Shield (MASTERED), Blood Nova (½), Death Grip, Blood Ritual, Grave Skin
My favorites are Dark Angel, Rigor Mortis, because they permanently increase your stats.
What is your favorite mission or quest, and how do you play it?
My favorite mission would have to be the holiday one where you go into the Christmas forest to collect items. My favorite because it's the easiest
What Type of making skills do you use the most? What do you enjoy about making?
Fashion, because it's the easiest one to make, the recipes don't require too much. What I enjoy about making is that you can make your own weapons and potions.
If you could get Matt Ohai to make one change to the game what would it be?
For the game world to be a lot bigger
Any words of wisdom for the other players out there?
Keep everything, and save up for bags, so you can store more.
Ad blocker interference detected!
Wikia is a free-to-use site that makes money from advertising. We have a modified experience for viewers using ad blockers

Wikia is not accessible if you've made further modifications. Remove the custom ad blocker rule(s) and the page will load as expected.