Mission
Urns Uncovered
Requires
None
Starting location
The Silver Plot
Given by
Ginger Devrie
Objective
Order Urns Collected
Reward
Light Pewter pants

Smog School Girl Skirt Handwrought Silver Earring - lvl 65, att +10 life +128 Rough-Hewn Barbellll- 65 +50 att

Once you have entered the silver plot and spoken to Ellis, you will see Ginger Devrie above him. She will explain to you about the missing urns that you have to locate. There are 10 and you will find them by running around in The Silver Plot.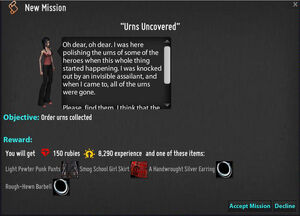 Ad blocker interference detected!
Wikia is a free-to-use site that makes money from advertising. We have a modified experience for viewers using ad blockers

Wikia is not accessible if you've made further modifications. Remove the custom ad blocker rule(s) and the page will load as expected.